Gladys Camilo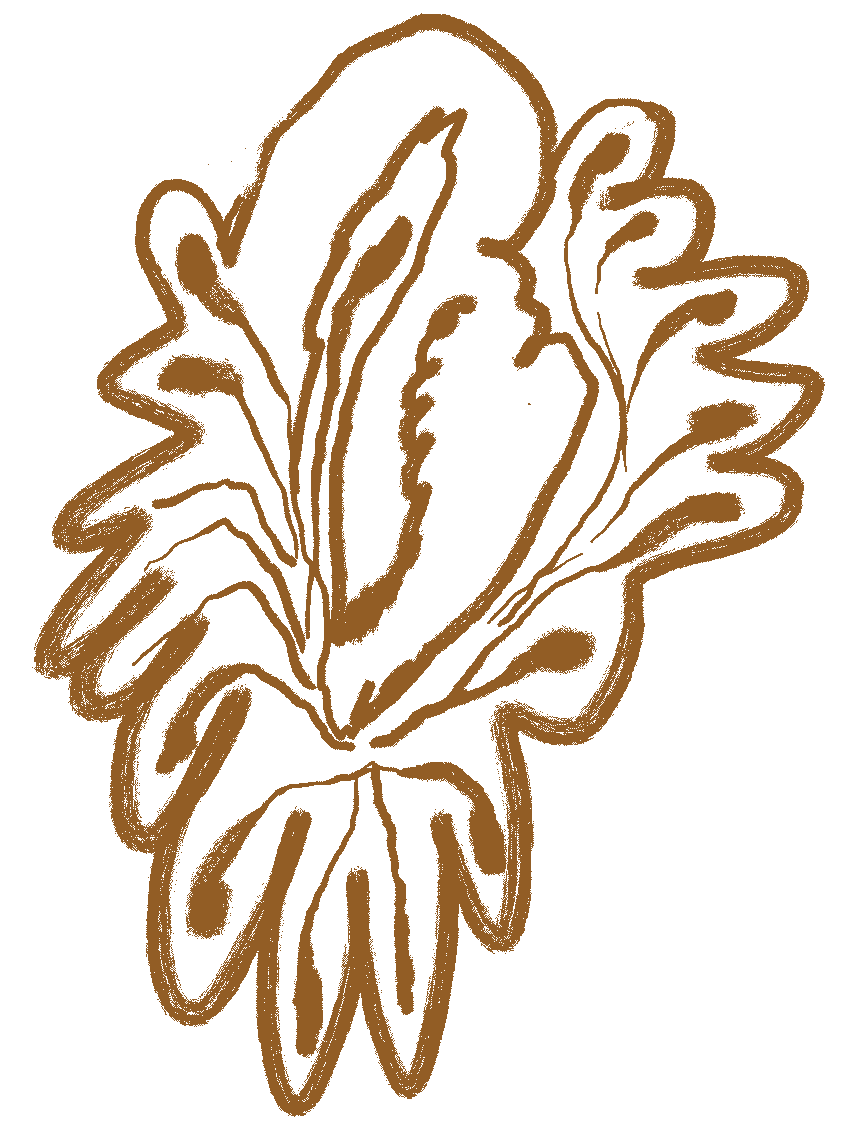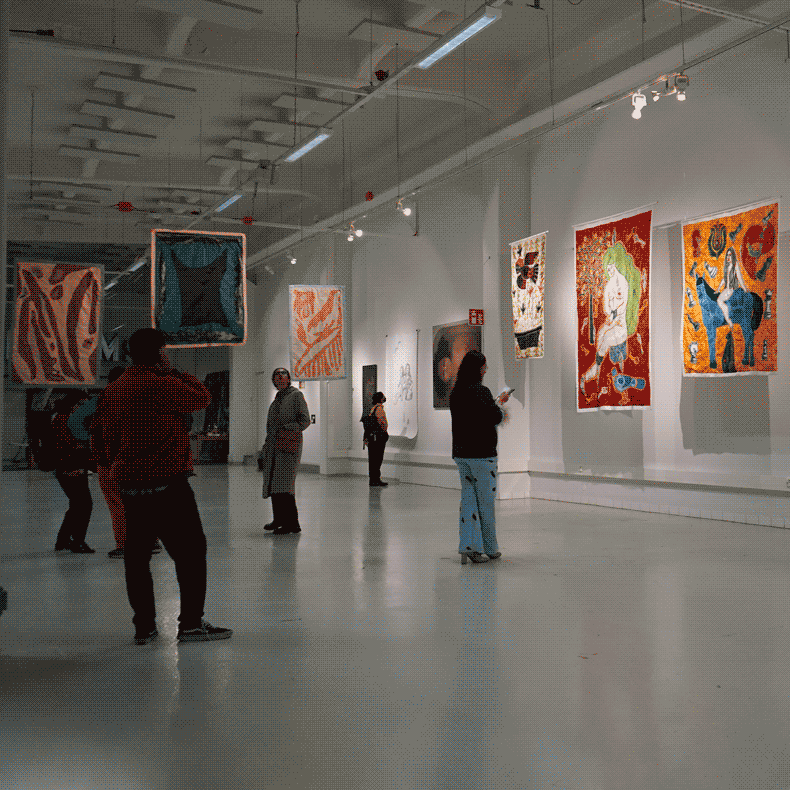 Fragmented Fronts, 2022
Catalysti Annual Exhibition
Quilted works made with upcycled materials (left):
Señora Cruz III, 2022, 68cm x 106cm
Señora Lopez III, 2022, 82cm x 106cm
Señora Torres III, 2022, 54cm x 91cm
Painting (right):
Alone in the Room I See Glimpses of Who I Was, 2022
Oil on Canvas, 30cm x 30cm
Curated by Elham Rahmati
Energiasali (Museum of Technology) Helsinki, Finland
Documentation by: Samra Sabanovic and Tamara Aalto
Futher details at: Catalysti ry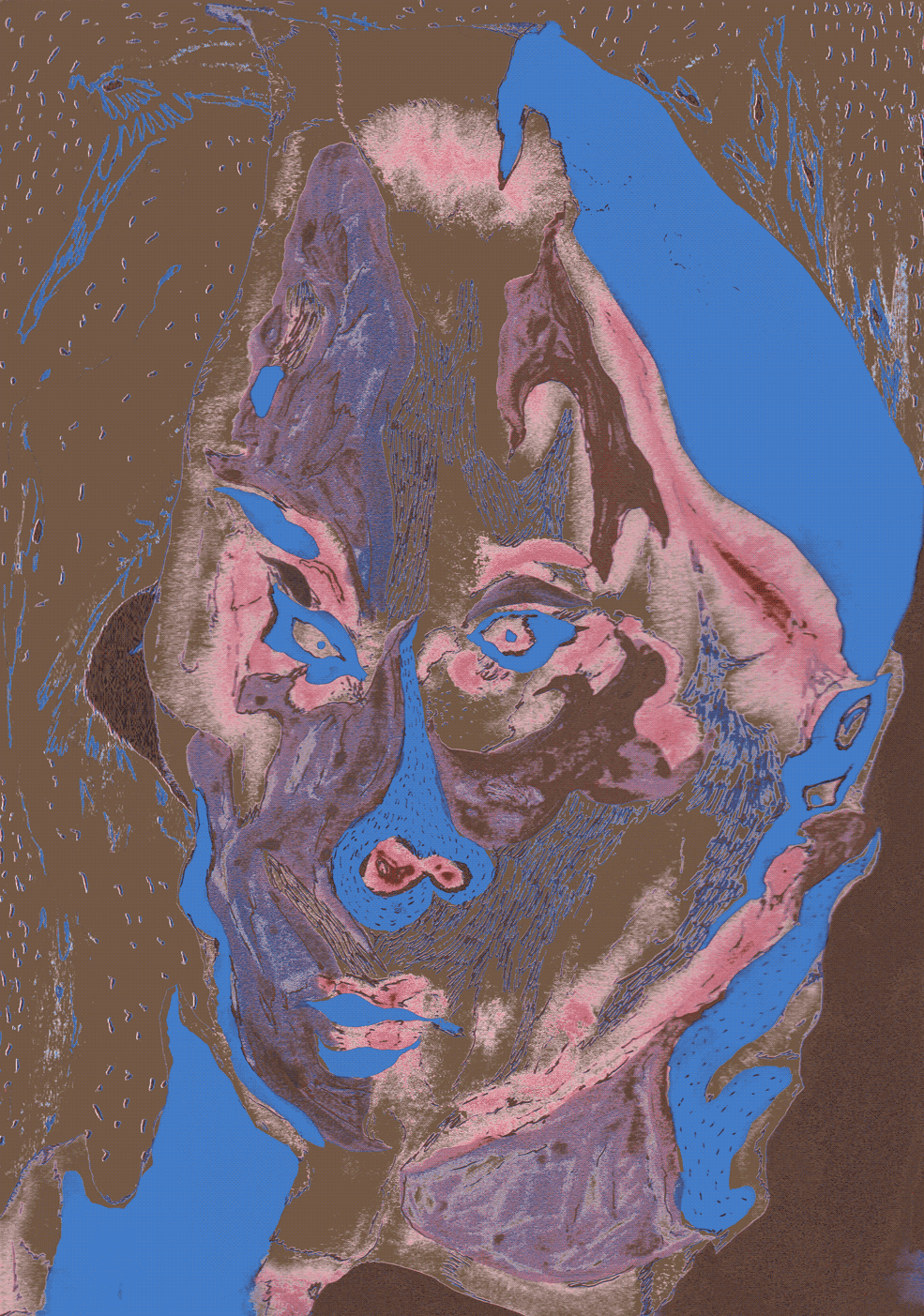 Pieces of Hope, 2022
Are You There?, 2022, 700cm x 100cm
Pantone print, 200g paper
Helsinki Design Week X Kaiku
Curated by Antti Grundstén
Poster available for purchase at: UU Market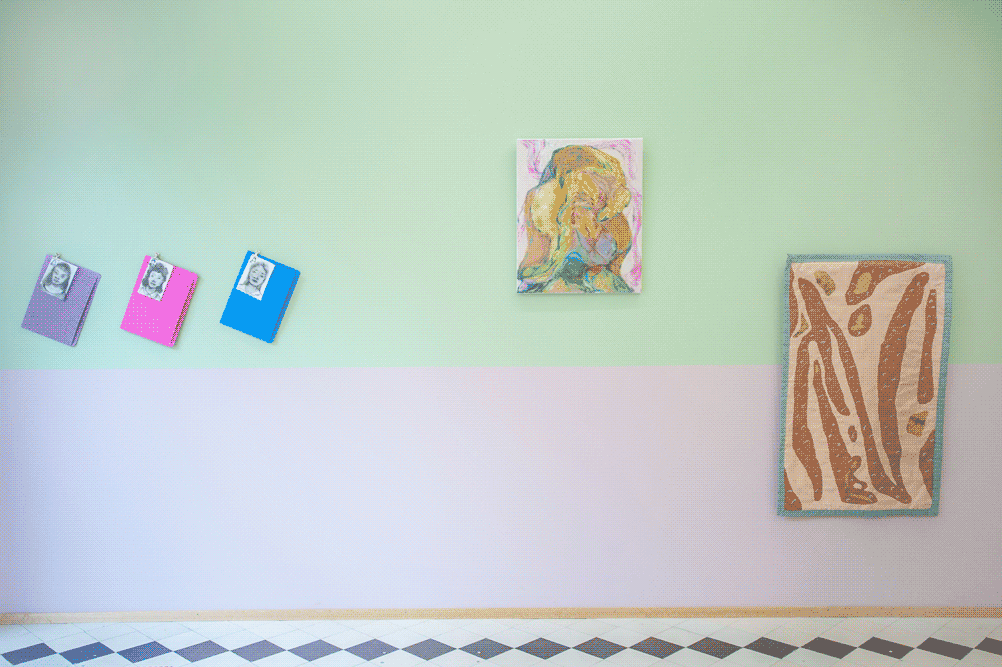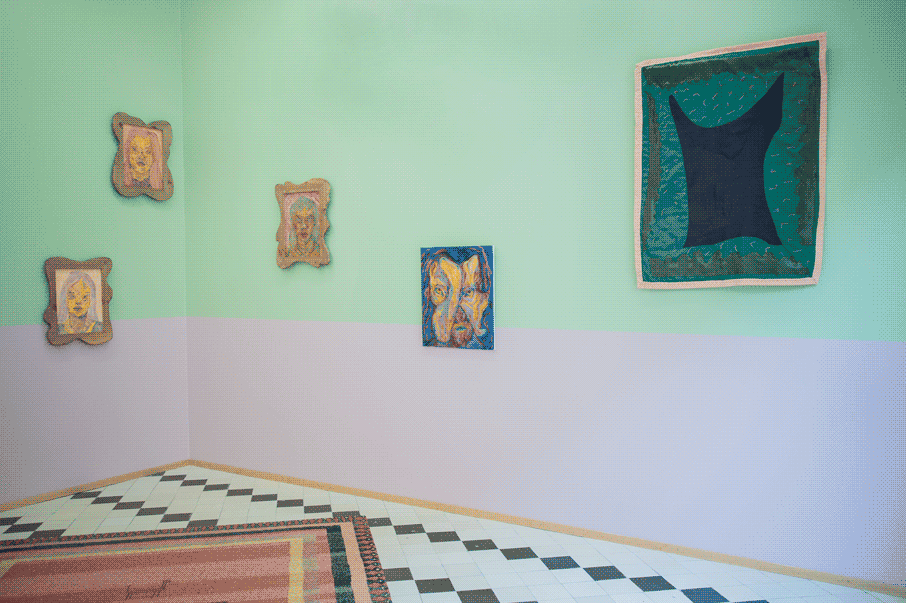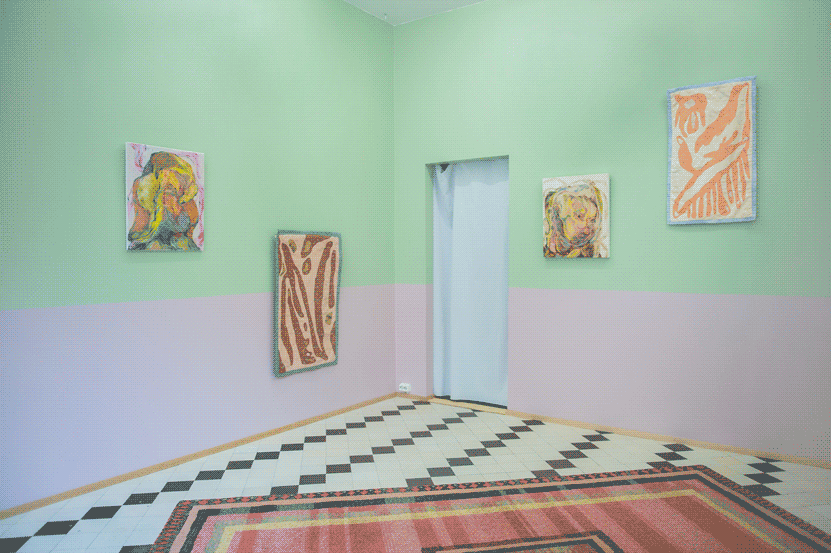 Through the Mire, 2022.
Solo Exhibition
The body of work combines quilts, paintings, sketches, and photographs with memory, functioning as a focal point in my artistic methodology. The exhibition is a collection of experiences and feelings of belonging, and the invisible aggressions of everyday life.
Outo Olo Artspace, Helsinki Finland
Further details at: Outo Olo Artspace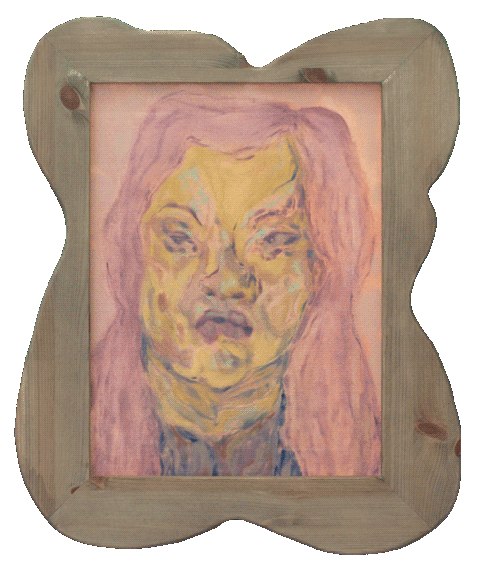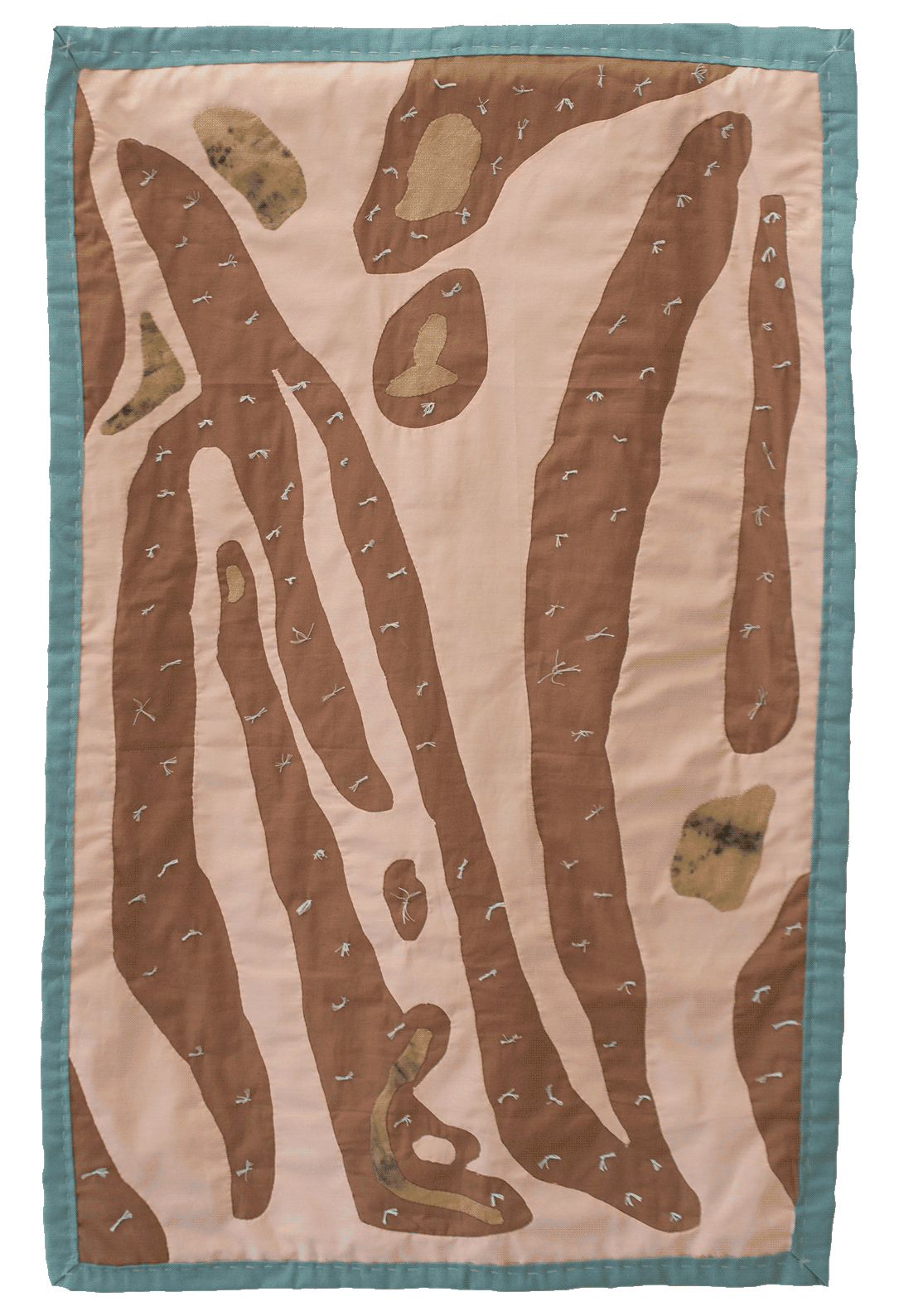 Señora Cruz, 2022
Oil on canvas, 30cm x 40cm
Señora Cruz II, 2022
Oil on canvas, 46cm x 55cm
Señora Cruz III, 2022
Wall quilt made with upcycled materials, 68cm x 106cm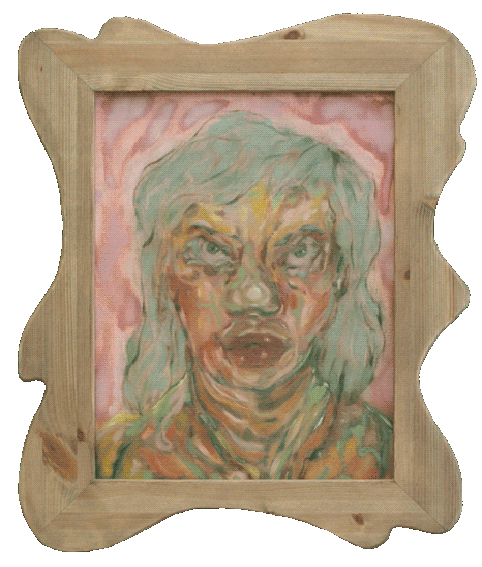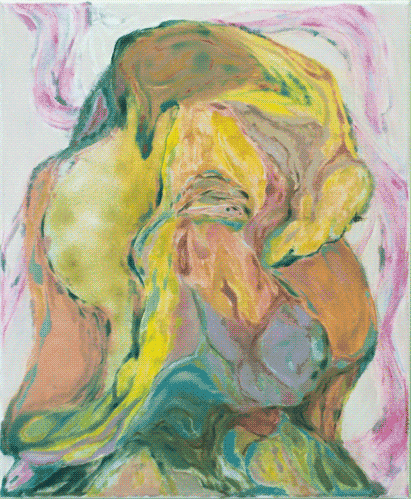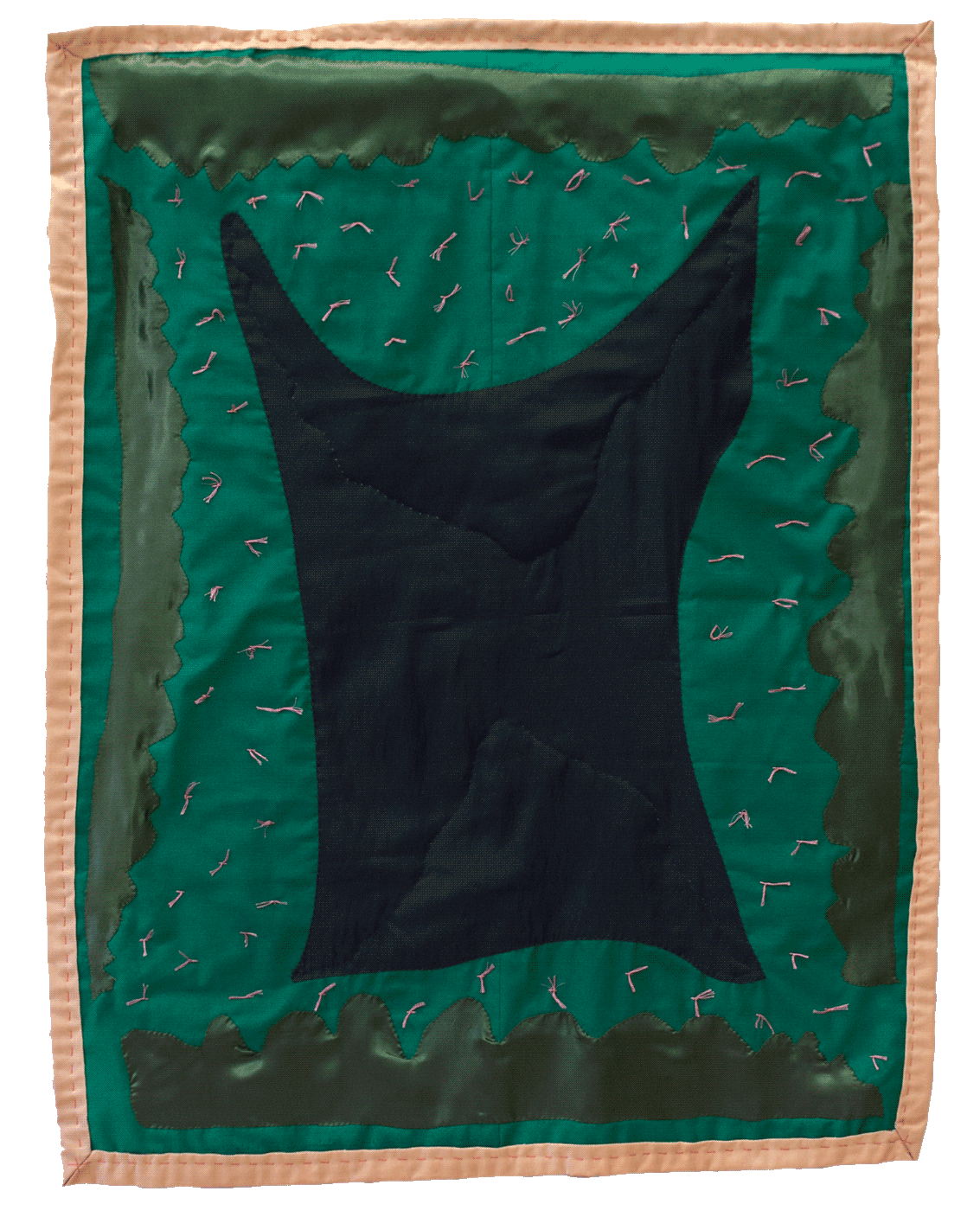 Señora Lopez, 2022
Oil on canvas, 30cm x 40cm
Señora Lopez II, 2022
Oil on canvas, 46cm x 55cm
Señora Lopez III, 2022
Wall quilt made with upcycled materials, 82cm x 106cm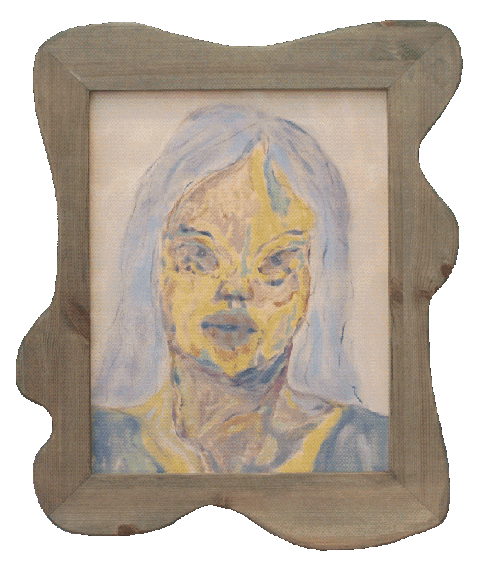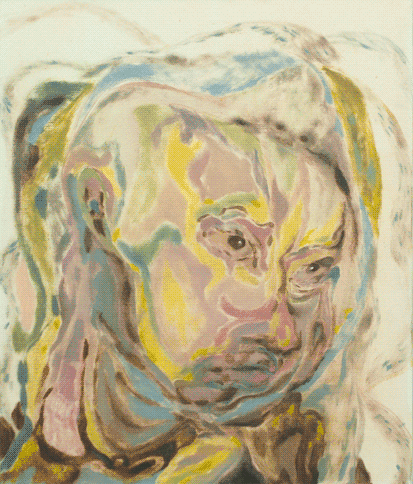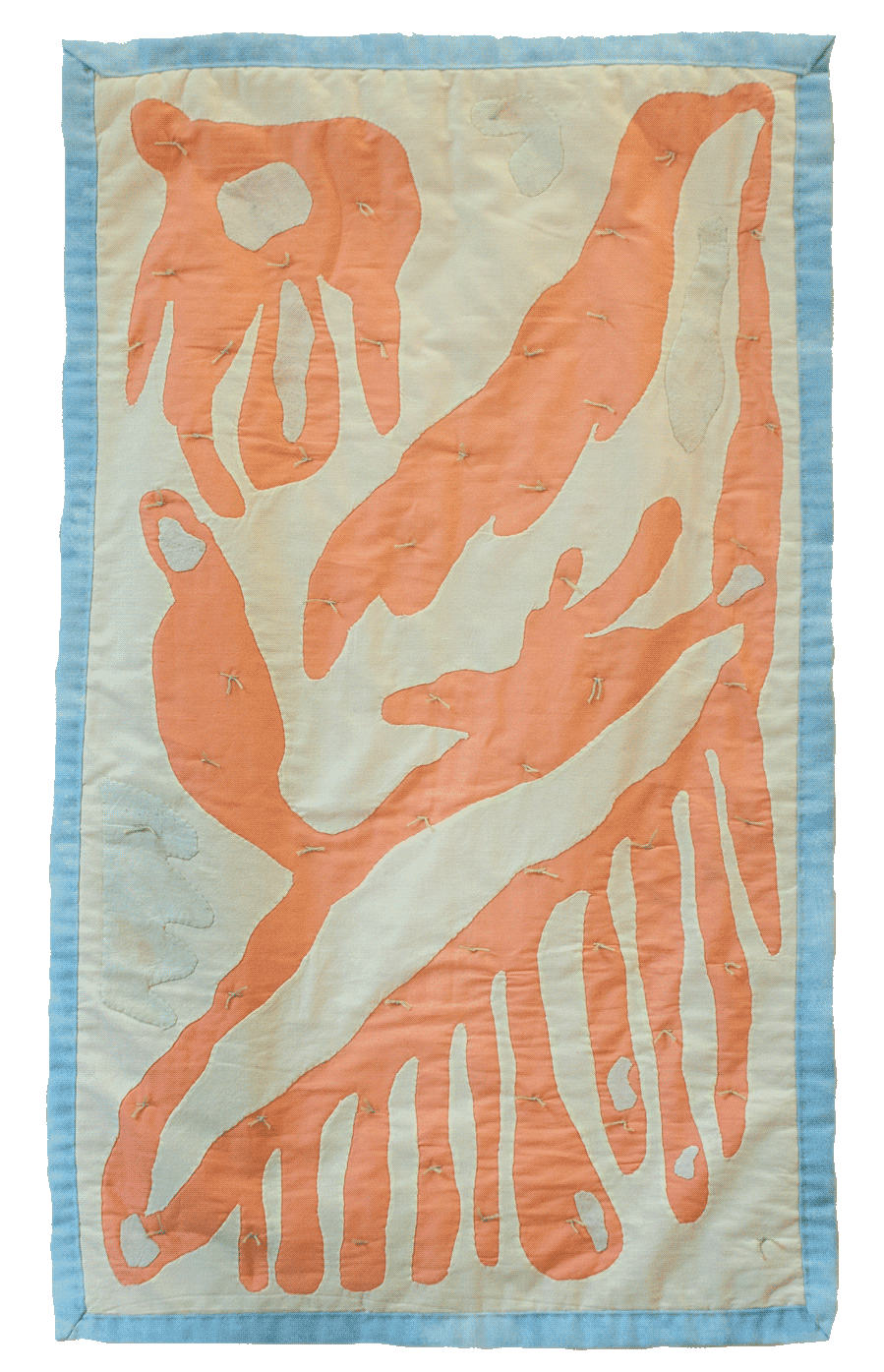 Señora Torres, 2022
Oil on canvas, 30cm x 40cm
Señora Torres II, 2022
Oil on canvas, 50cm x 60cm
Señora Torres III, 2022
Wall quilt made with upcycled materials, 54cm x 91cm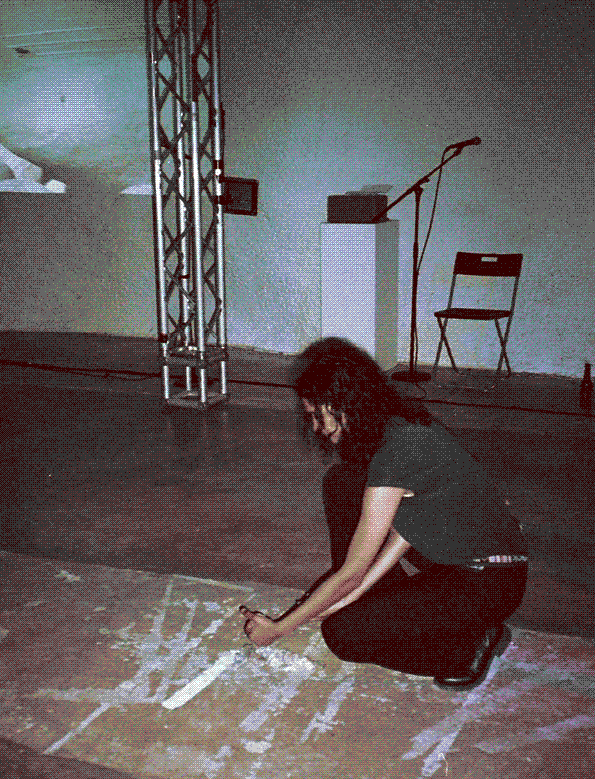 Exit Through the Loophole, 2021.
A multi media performance festival and group performance.
Vapaan Taiteen Tila in Helsinki, Finland
Documentation by Amelia
Hosted by Varialambo in collaboration with Catalysti ry.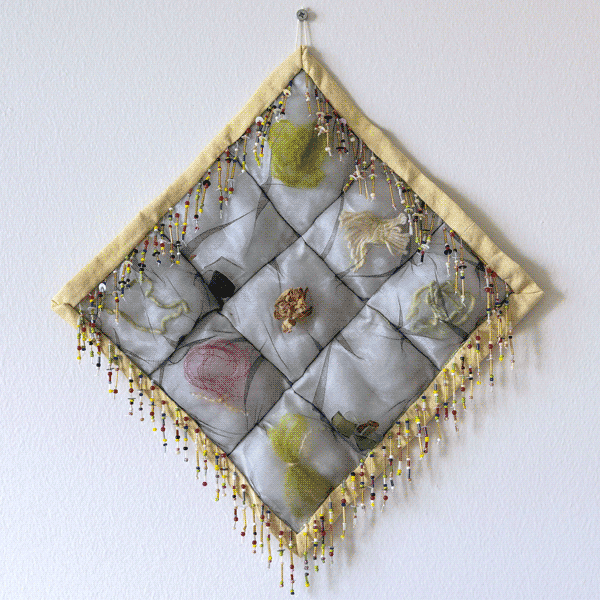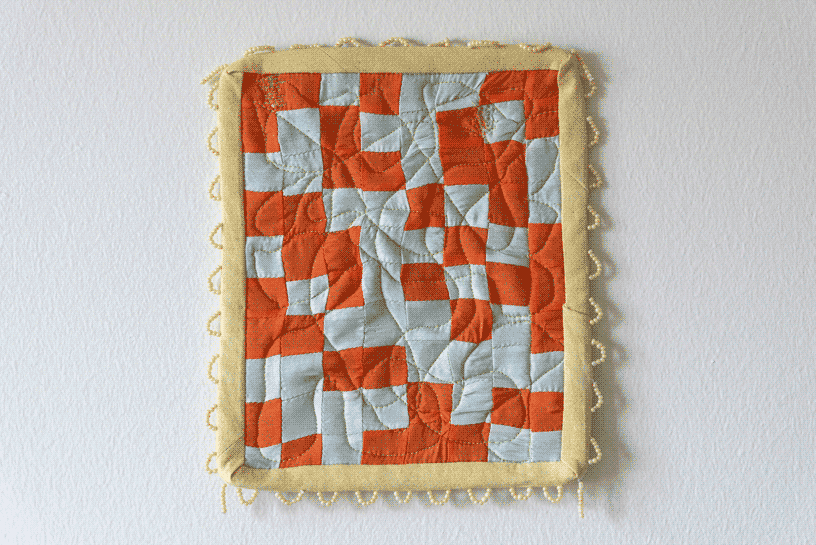 1 to 100 Artshop, 2021
The things I Carry Overwhelm Me, 2021 (left)
Quilt with beaded work, 30cm x 30cm
I Think I Remembered Something Important, but Then I Forgot, 2021 (right)
Quilt with beaded work, 18cm x 20cm
Katugalleria Mutteri, Helsinki, Finland
Curated by Hikari Nishida and Emil Lyytikkä

What's the Use of Intersectionality, 2021
An online and outdoor exhibition featuring commissioned artworks that explore different ways to communicate and encounter intersectional feminism.
Spider's Nest, 2021.
Digital print on Texmesh, 150cm x 245cm
STOA Cultural Centre, Helsinki, Finland
Curated by Feminist Culture House
Documentation by: Ikko Alaska
Futher documentation at: Feminist Culture House
Self-Preservation, 2021
Naturally-dyed recycled cotton and hand-quilted with repurposed batting 61cm x 42cm.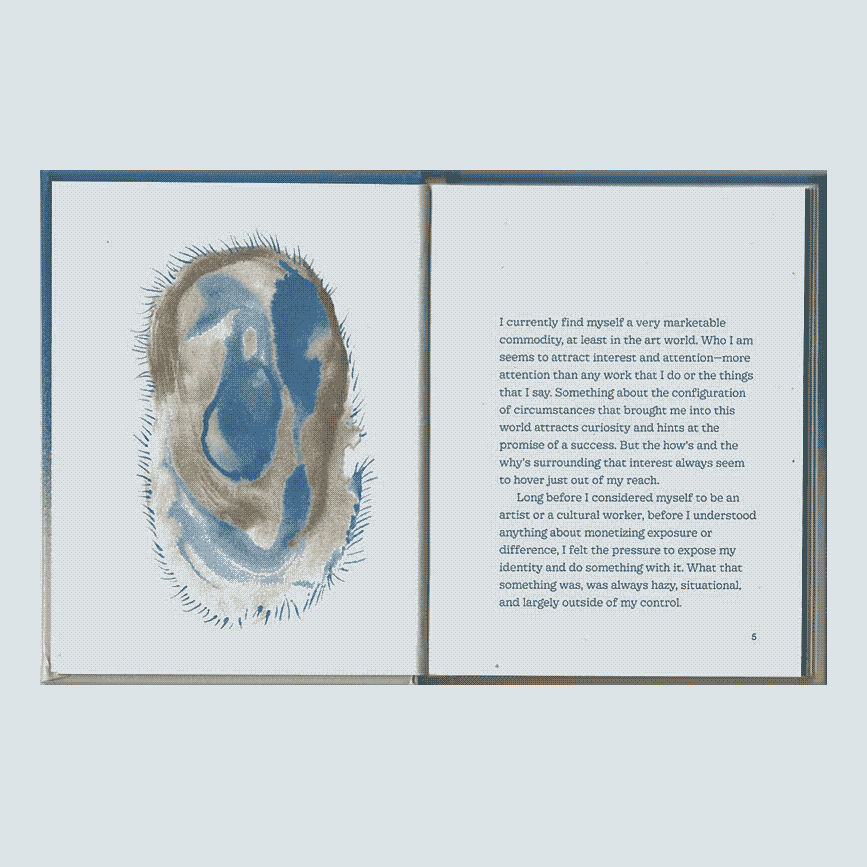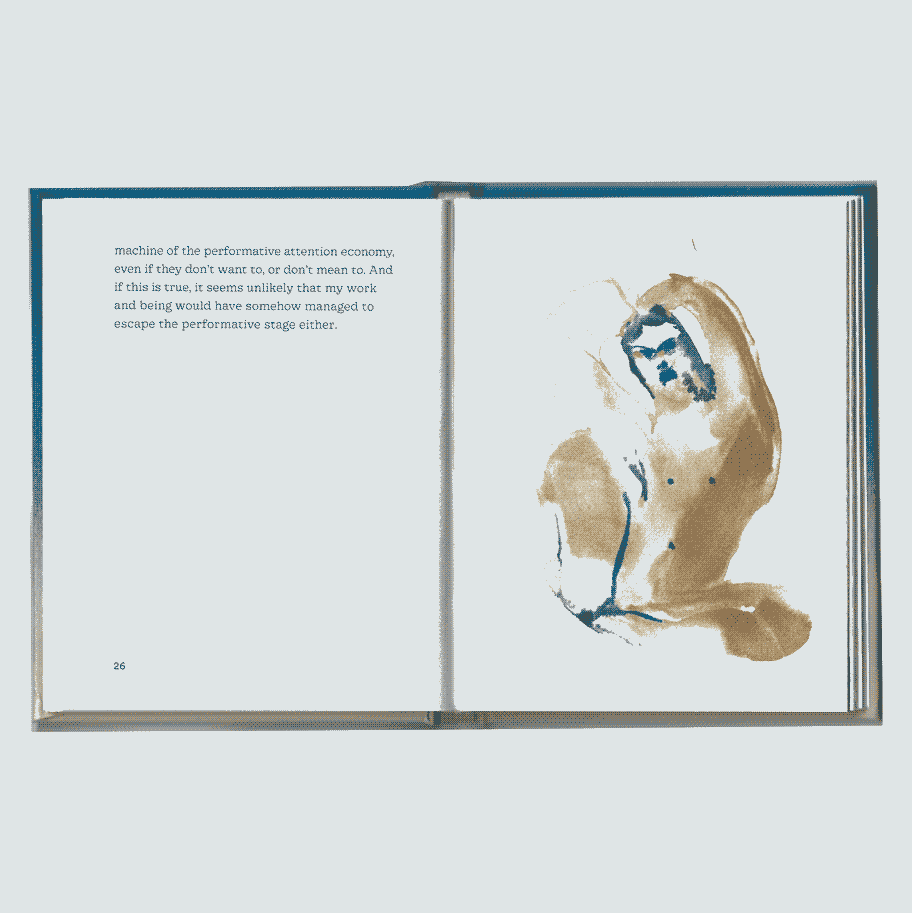 Performing a Lifetime, 2020
A book exploring bodies and identities belonging to the in-between. Saara Mahbouba and Gladys Camilo reflect on the complications of navigating between accurate representation of oneself and one's community and the traps of performativity, appropriation, and self-exploitation. Exploring the complexities of working ethically in a contemporary artscene that simultaneously lauds and punishes otherness, Performing a Lifetime taps into the artists' personalexperiences of embodying identities that are neither fully within nor without categories of otherness and hegemonic bodies.
Text: Saara Mahbouba
Paintings: Gladys Camilo
Publisher: quince ediciones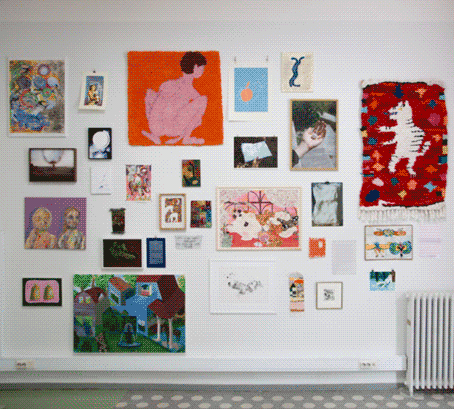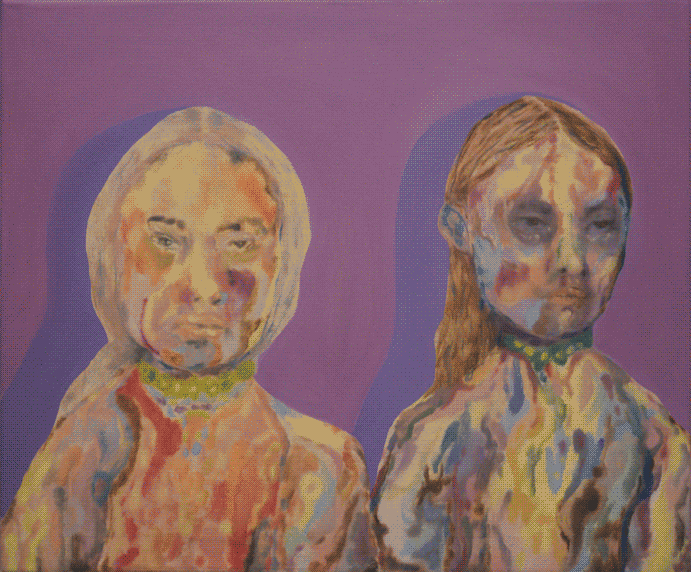 Summery Sales Exhibition, 2020
An exhibition showcasing unique artworks from 120 artists
We Watched Them Burn One Another; Evolve Into Ash,
Only to Be Filled by it Once More, 2020
Oil on canvas, 55cm x 46cm
Kosminen Galleria, Helsinki, Finland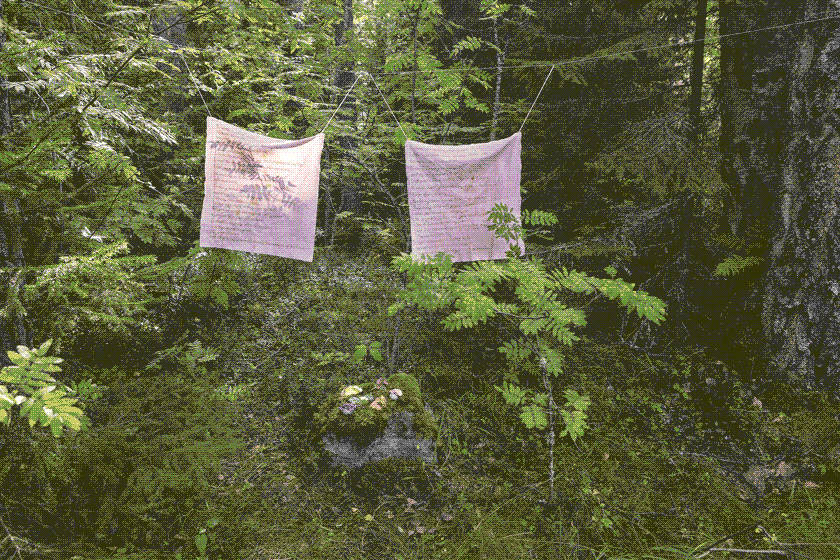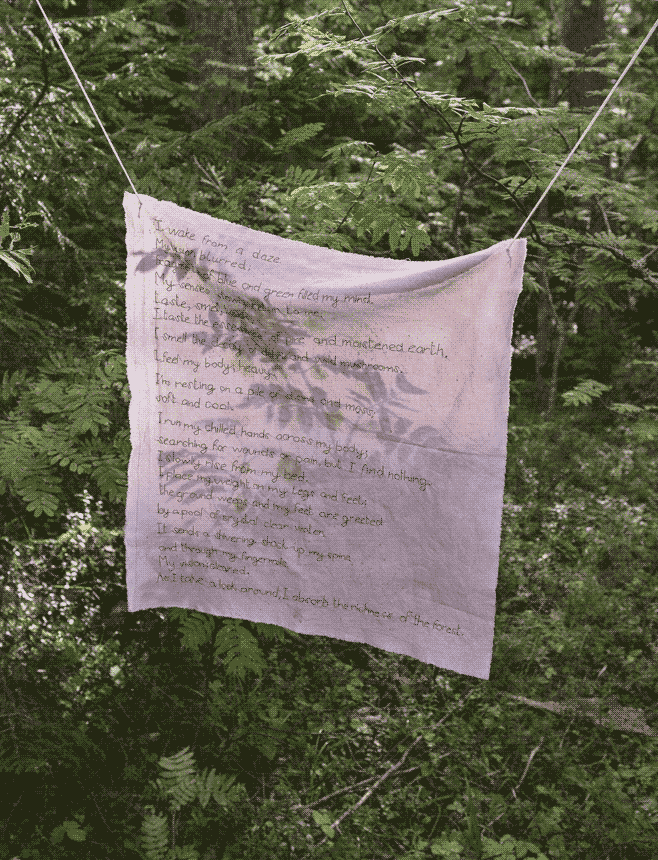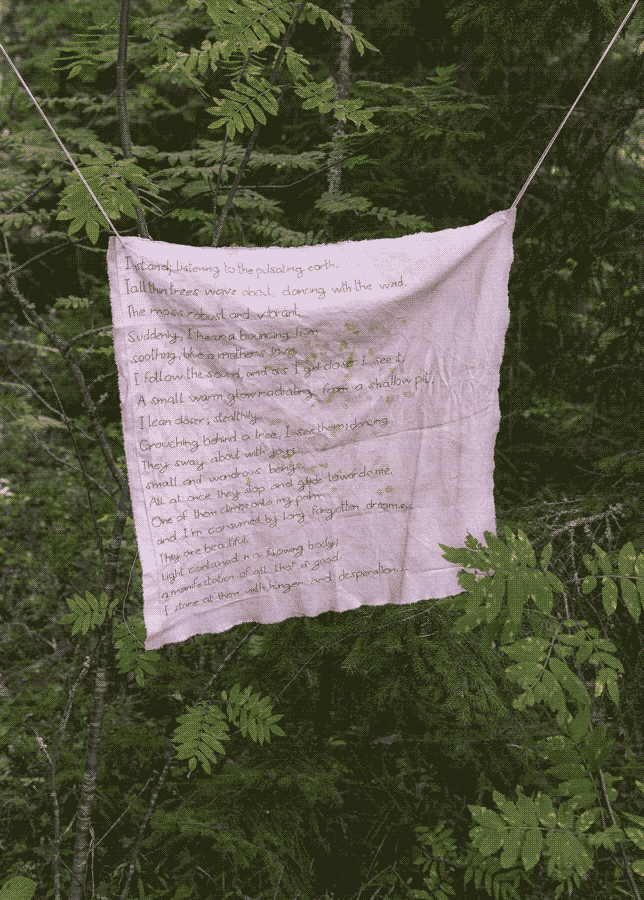 O Worm Supreme, 2020
A one year long exhibiton in the forest.
Nagual Forest, 2020.
Clay sculptures and hand-stitched text on naturally dyed cotton fabric.
TUO TUO Arts, Joutsa, Finland Curated by Liina Aalto-Setälä.
Futher documentation at: TUO TUO Arts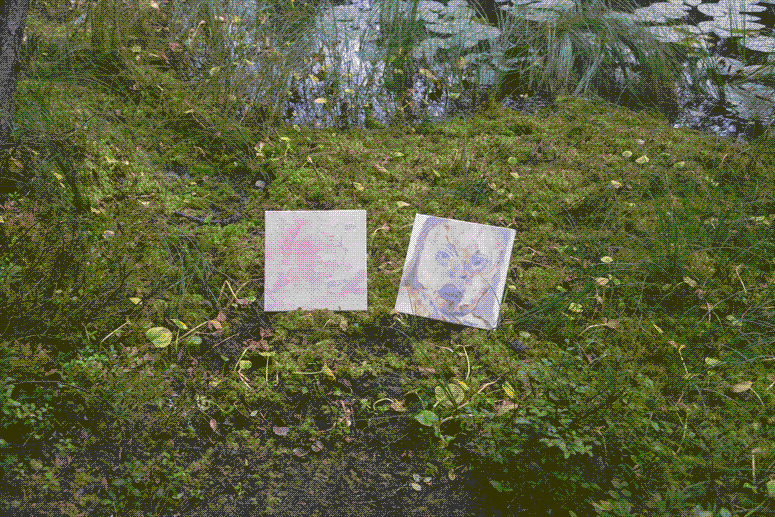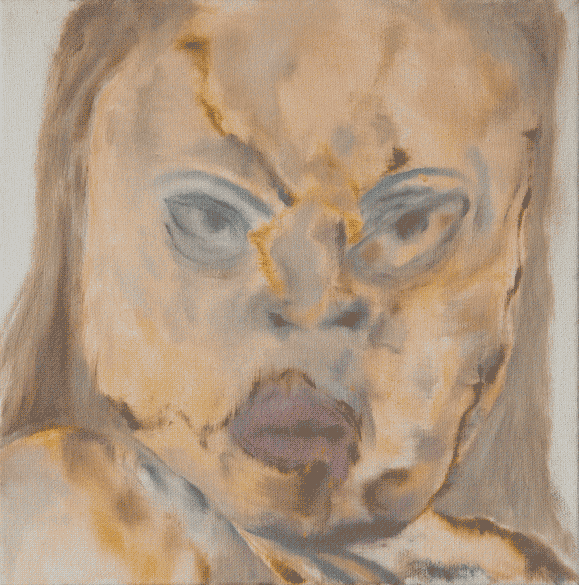 Freedom to Roam, 2019
A one day art exhibition in the forest.

Investigation of Natural Dyes, 2019. Cotton and silk textiles hand-dyed and printed with foodwaste.
Self-Care Station, 2019. Makeshift vanity mirror with: hand-made rose infused oil, face tint and floral vase.
They Screamed at Their Faces (left)
Wondering Where Does the Anguish Lie (right), 2019.
Dyptich, oil on canvas, 30cm x 30cm.
Kruununvuori Forest, Helsinki, Finland
Curated by Liina Aalto-Setälä